In our new Featured Artist Series- Share My Shop, we visit with woodworkers from all walks of life and explore what makes each of them unique while showcasing their art. Woodworking is a rewarding art form, but sometimes can be challenging and it's not always easy to find inspiration for your next project. Our aim in this featured artist series is to promote the woodworking industry while spotlighting artists who inspire creativity.
Featured Artist: Bernie Howell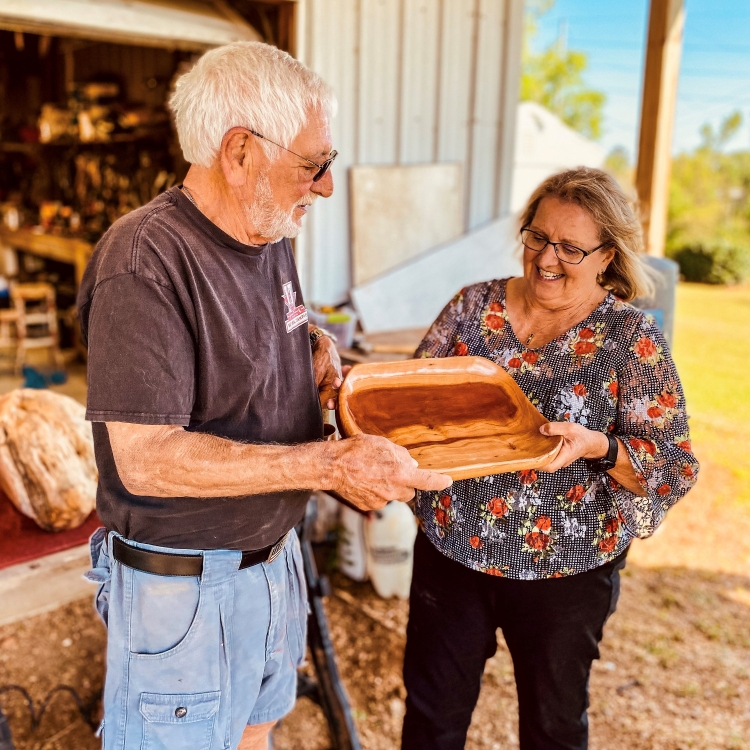 Bernie sharing a made to order platter with Pamela Aveling
Meet Bernie Howell!

Bernie of Silverbear Woodworks is an industry veteran, who picked up woodworking at the young age of 14. He has well over 50 years of experience in carving. Bernie recalls starting out with only a hammer and chisel as a child and over time, has transitioned to power carving. He takes great pride in creating one-of-a-kind pieces of functional art, and his shop consists of all different types of wood; from exotics to maple and everything in between. Regarding his favorite tool, Bernie claims that, "The Guinevere is the best tool that King Arthur has ever made. It saves the artist so much time and effort while delivering a beautiful result."
As a Veteran of the US Military, Bernie served his country in Vietnam and, unfortunately like many of his peers, he suffers from PTSD. For him, woodworking is a form of therapy. It allows him to focus on the task at hand and forget about his troubles for a while. When he's in his shop, surrounded by shavings and the smell of freshly carved wood, Bernie feels at peace. He is passionate about his work and that passion is evident in every piece he creates.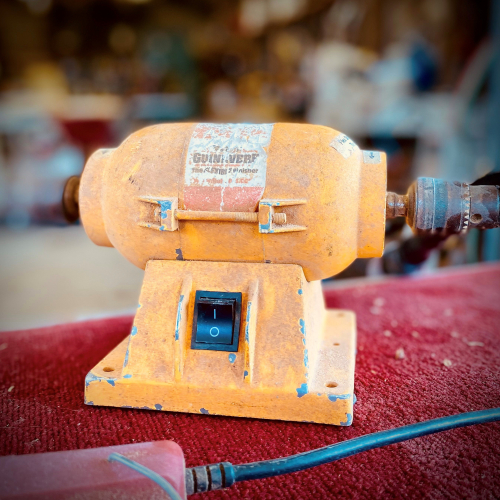 Bernie's Vintage Guinevere circa 2007


Featured Pieces:
Bernie's home is filled with many of his carved creations that were his late wife's, Karen, favorites and that she wouldn't allow him to sell. These pieces hold sentimental value to him. Below are just a few items that Bernie shared with us when we visited with him.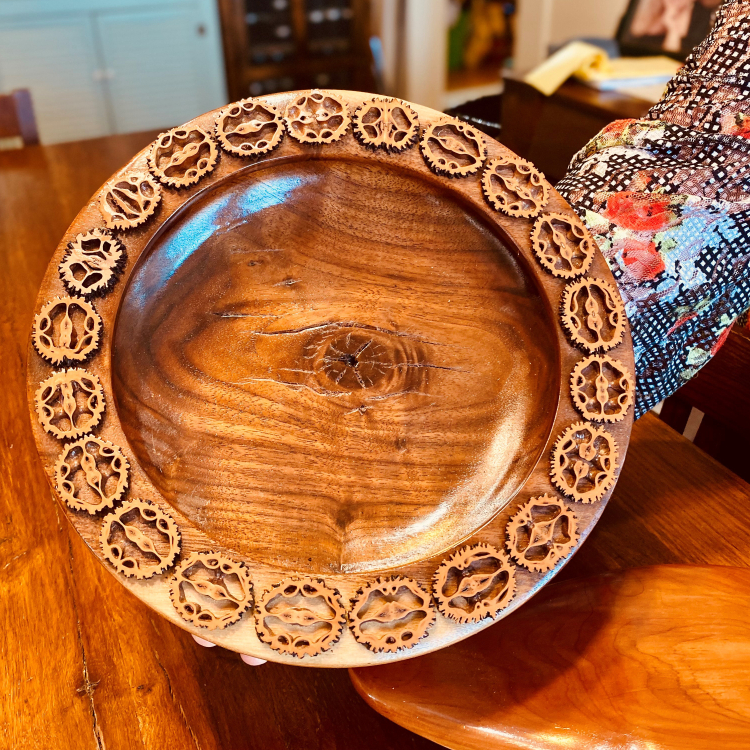 This unique bowl comes courtesy of the walnut tree and includes a border of walnuts perfectly positioned around the rim. This piece was made using a lathe and Easy Wood tools.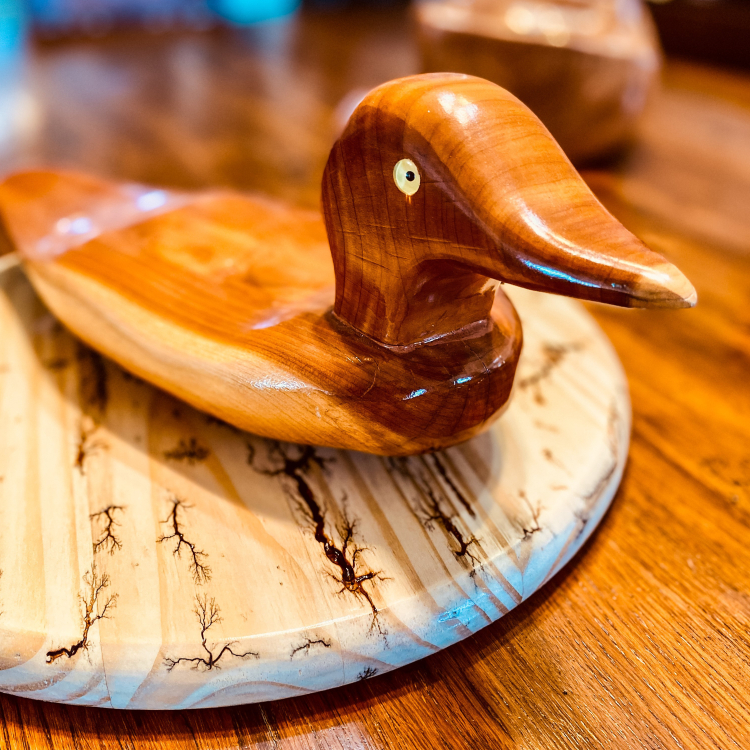 This duck was made using the Merlin2 and Guinevere, power sanding system. Bernie has been carving decoys for over 50 years and found a new level of efficiency when he discovered the Merlin2.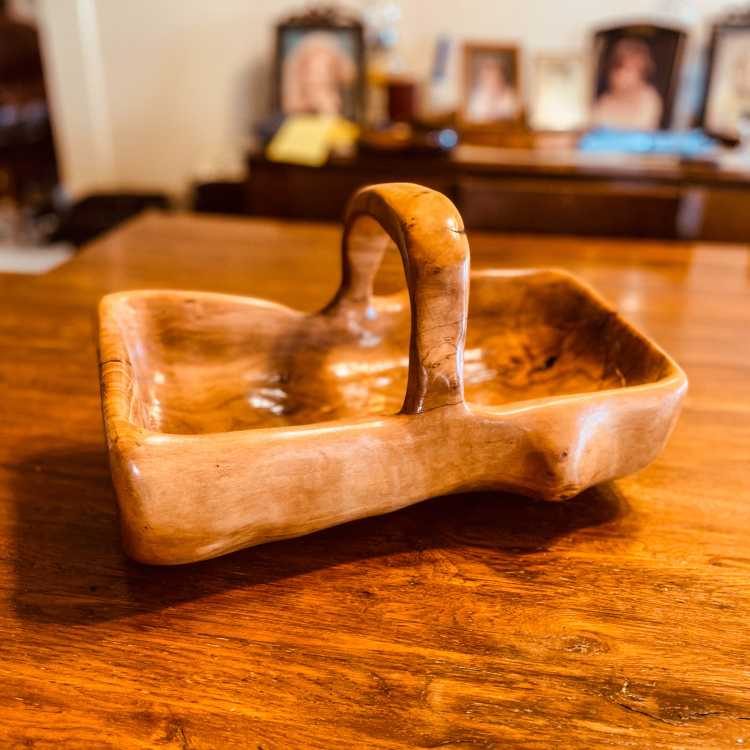 This basket was made using a chainsaw, the Holey Galahad round profile disc, the Merlin2 and the Guinevere power sanding system. This basket was the first in a series of 6 and is made from dogwood.

What are you working on lately? Bernie says that charcuterie boards are in high demand. "There are a lot of ladies out there that are crazy about those things, and if that's what they want, then that's what I'll make." Bernie said that he has sold many of these serving boards recently, personalizing them to order by type of wood, size, and design style.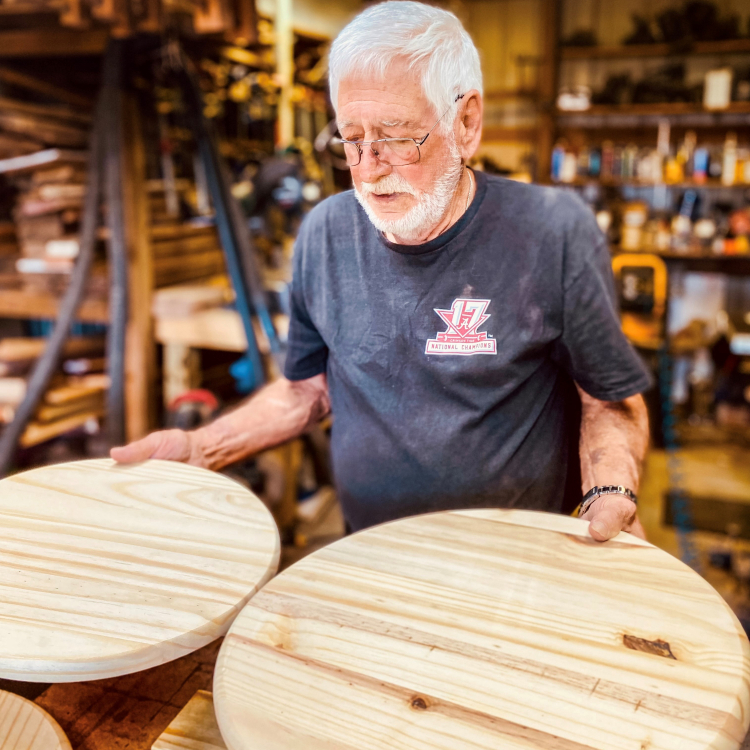 Bernie showing a couple of raw boards in his shop in Chattahoochee, Florida
What's not to love about Bernie? His years of experience and passion for creating functional art is inspirational. He is a great example of an all-American woodworking artist and has many projects left in him. Bernie has been using King Arthur's Tools for over 20 years and is an advocate for the quality and practicality that they offer to the woodworking industry.