About Power Carving Kits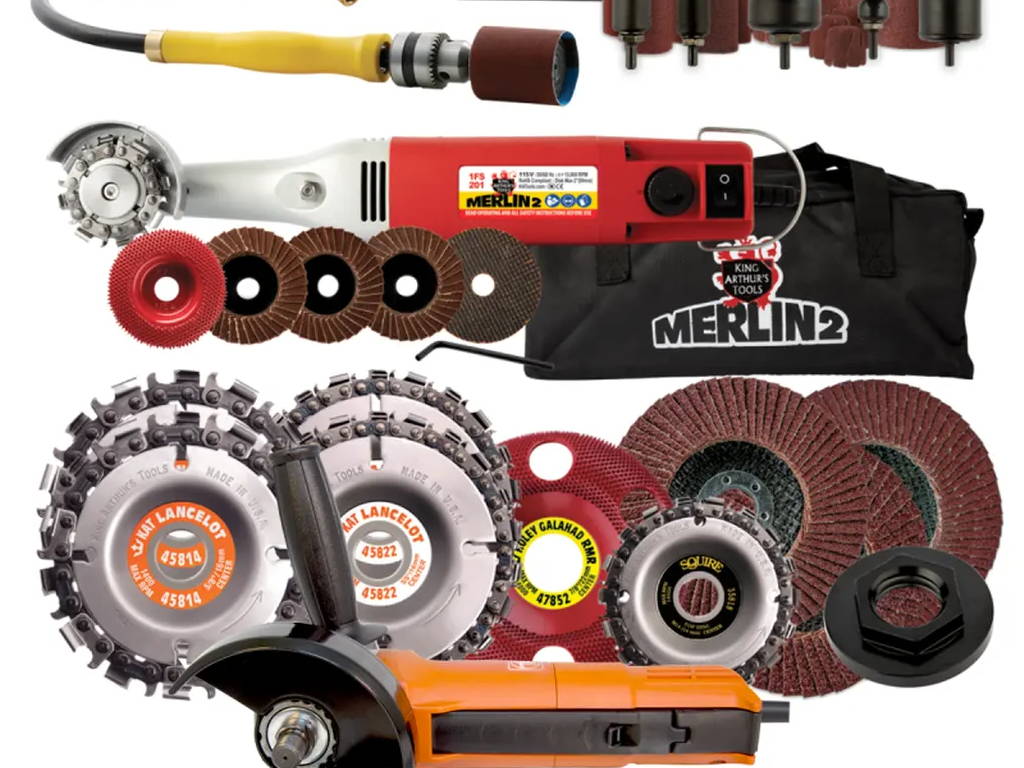 what are Power carving Kits?
POWER CARVING KITS are combinations of our most popular accessories tailored from repetitive individual enquiries received over 30 years. These sets offer a discounted price compared to individual purchases. We have many choices broken down below. These accessories can only be used safely on standard 4-1/2" and metric 115mm - 125mm angle grinders.
For large free form power carving projects we recommend you use our:
Lancelot® and Squire® saw chain blades, or their tandem combinations, for mass removal and rough shaping, then use
Galahad CG® or Holey Galahad® tungsten carbide discs to smooth down uneven, high spots and ridges, then
Igraine® flap discs for major surface areas, sanding and finishing.
For detail carving, complete the project with the Merlin2® mini grinder and its many accessories and/or finish with ® sanding and polishing system to obtain a super fine velvet touch finish
Apply your liquid or wax finishes after either sanding with Igraine®, Merlin2® or Guinevere®, depending on your choice of surface grit finish
What Can Power Carving Kits do?
Nothing shapes wood better! From bowls to bears to artistic sculptures to log homes, furniture making, and taxidermy – anytime you need to get any final shape, using our cutting blades and tungsten carbide discs can help bring your vision to reality. They provide superior material removal, finishing with a very smooth action using Holey Galahad®, and all so very easy to control.
Note 1: The choice of blades is the same for either the 5/8" (16mm) standard or 14mm metric center shaft angle grinders. You specify the size when ordering. All kits include the respective thread Universal Nut for single or tandem combination use.
Note 2: If you require premium, longer lasting tungsten carbide discs check out our See-Through Holey Galahad discs where each model has a range of different grits and finishes, ranging from Extreme Coarse to Fine. We have a full range in our Royal Knight's and Royal King's Choices. Our DIY power carving sets are level entry Knights Economy Kits that include Galahad CG (crushed grit) tungsten carbide discs. For a smoother surface, you can finish your work with Igraine flap disc sanders or other finish sanders.