About Fein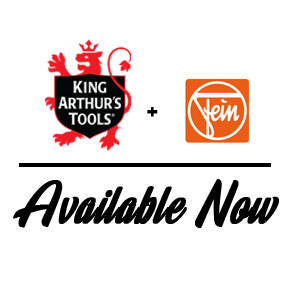 King Arthur's Tools is proud to announce our new partnership with a name synonymous with quality power tools, Fein.
For the first time in KAT history, we have partnered with a brand we highly recommend for use with our accessories. We are thrilled to offer this 4- 1/2″ Fein paddle-switch grinder on its own AND with the grinder as a combination paired with our Holey Galahad Carbide Discs!
The Fein 4-1/2″ Paddle Switch Grinder packs the power and versatility of a larger angle grinder in a lighter, compact, more ergonomic design. Its smaller grip size allows for better control and ease of operation while removing, cutting, carving and shaping wood.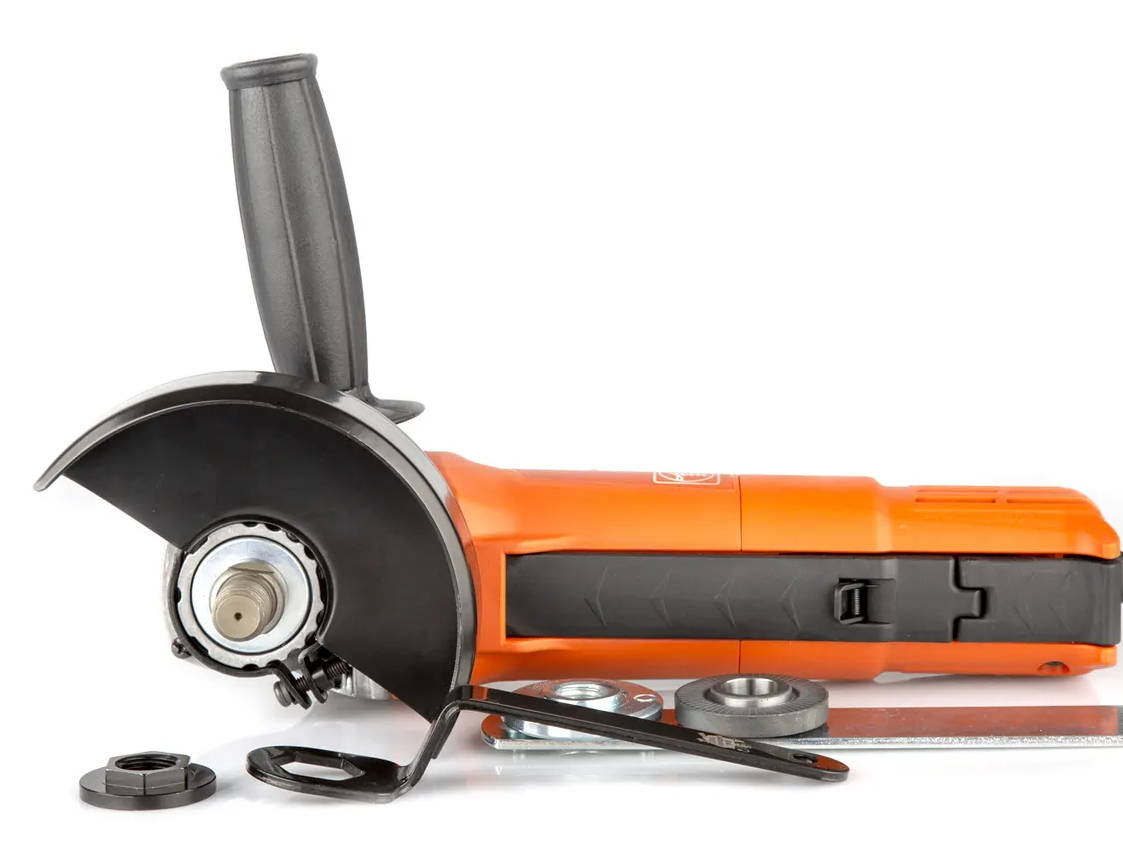 Solid metal gear head for extended tool life
Extended carbon brush for longer service life
Ergonomic grip = less fatigue
Powerful motor for increased performance
Rotates in 90° steps
Multiple applications
Specifications:
Power consumption: 760 Watts
Power output: 420 Watts
110v North American plug only
No load speed: 12,500 rpm
Cable with plug: 8 ft
Weight according to EPTA: 3.75 lbs
Center Shaft Mounting thread: 5/8-11 in
Grinding wheel Ø: 4-1/2 in (115 mm)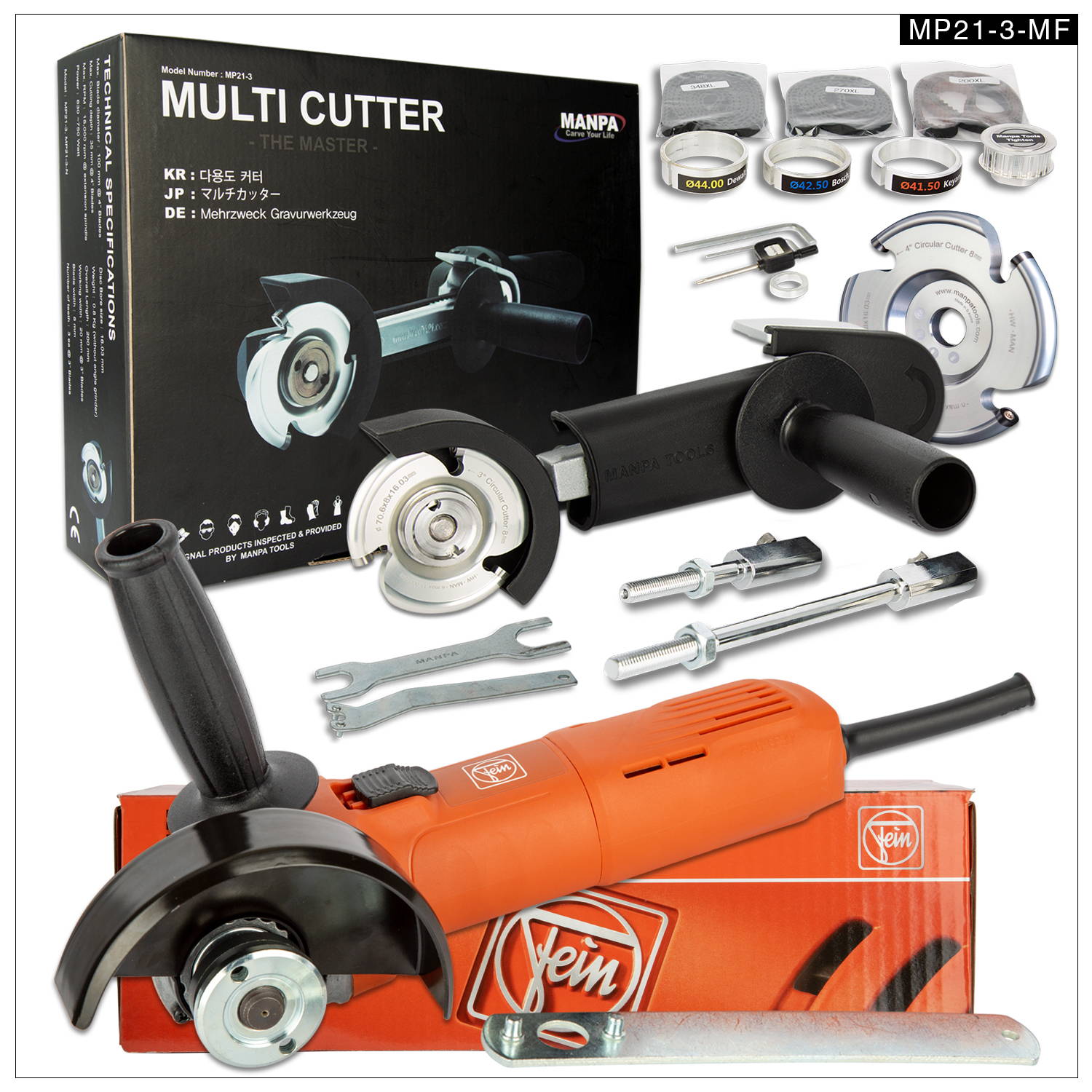 ---
FEIN Angle Grinders
Paddle Switch Or Slide Switch?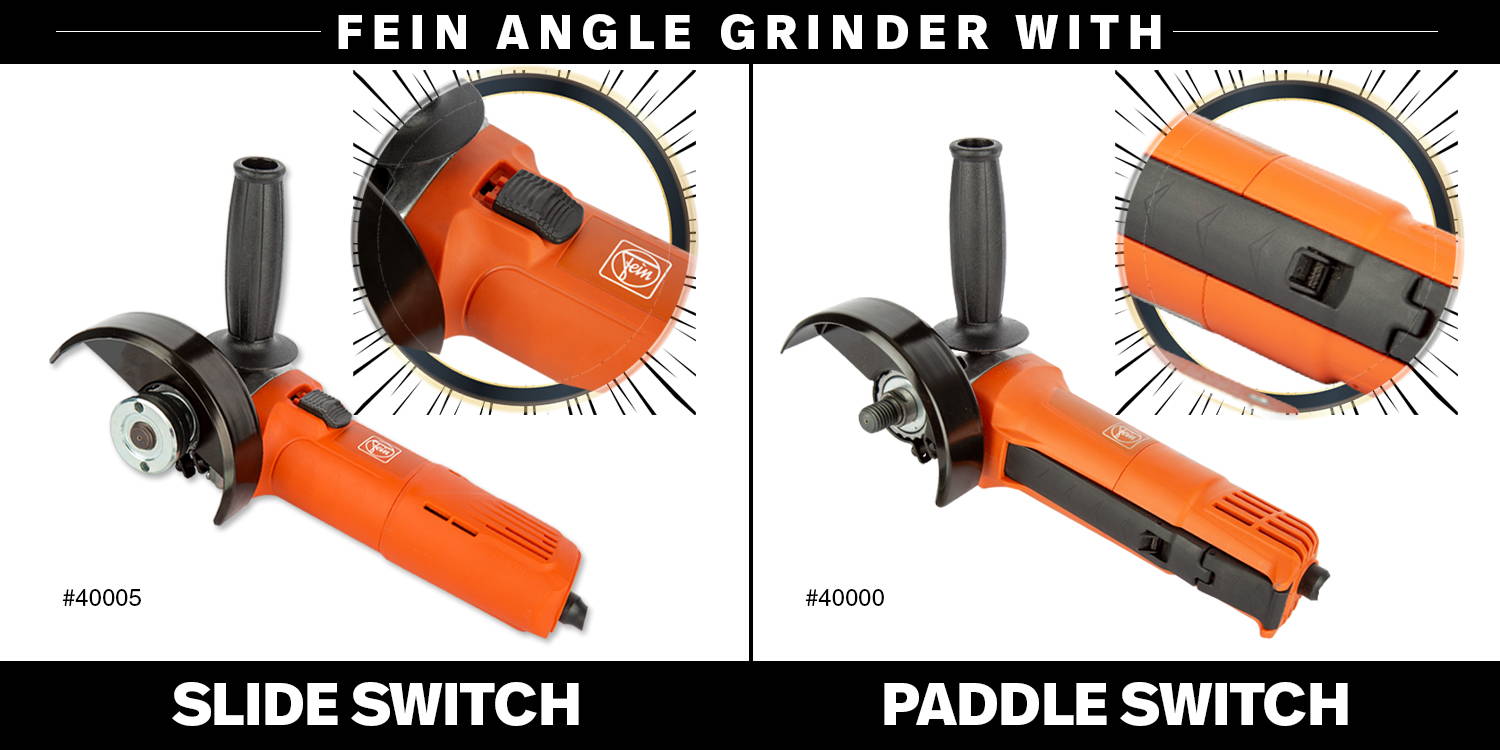 SLIDE SWITCH, Thumb Control

We specifically brought in #40005 Fein Model # WSG7-115 to suit Manpa Tools unique product line
Virtually all their fantastic tools are designed to be powered by slide switch angle grinders
Their design is very compatible with the position of the slide switch
Manpa Tools have designed their accessories to be used on their many lengths and types of extensions fitted directly on slide switch grinders
Their design greatly reduces the probability of wood shavings accumulating under the "Off" switch.
Makes it easy to turn on and off
Using a paddle switch actually interferes with Manpa Tools operation, except for a few items fitted directly to the angle grinder
This grinder style is the safest and the best when attaching the Grinder HolderMP21-9
Attaching the holder around the body of grinder gives you:
1) more leverage
2) allows you to do really heavy work attaching different Manpa extensions and accessories
3) comfortably and safely use the 7 positions on the grinder holder
You lose maneuverability and some functionality with paddle switch grinders
PADDLE (Or KILL) SWITCH
King Arthur's Tools highly recommends #40000 for all products it manufactures, markets and distributes.
THE MAIN REASON IS SAFETY.
Our accessories are all mounted directly over the grinder's center shaft
For close in control, and to remove material quickly,
Wood shavings and sawdust can build up under the "Off" section of slide switch grinders
This causes the switch to stay on when switching it "Off".
THIS DOES NOT HAPPEN WITH PADDLE SWITCH GRINDERS
Using this paddle switch angle grinder also applies when using any Manpa 4" cutting accessories fitted directly on the grinder. MP21-4-12, MP21-4-8, MP21-5-4, MP21-6-4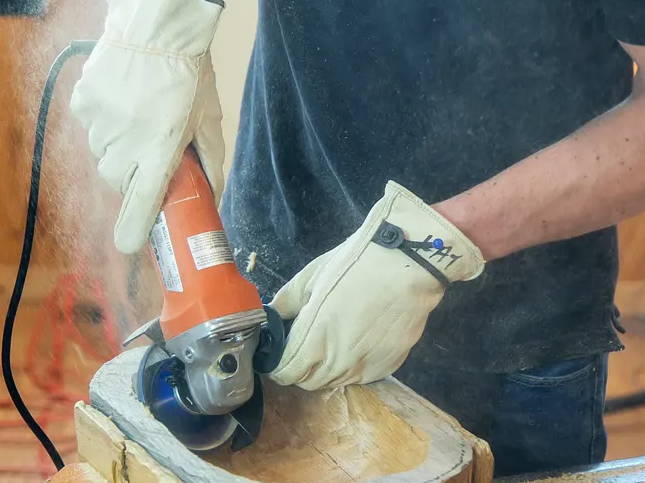 We're not just selling the FEIN angle grinder individually; we're offering a selection of our top 4" (100mm) Holey Galahad accessories fitted to it. Any Holey Galahad disc paired with the FEIN angle grinder is a fantastic combination for shaping as well as rapid wood removal of rotten wood, excess wood, bark, high spots, ridges and chainsaw cuts, leaving a coarse to even finish on contoured and convex surfaces. Nothing shapes wood better! From bowls to bears or artistic sculptures to log homes, furniture making, and taxidermy – anytime you need to get a final shape, whether flat or contoured, Holey Galahad® "see through" discs in conjunction with the FEIN paddle switch grinder can help bring your vision to reality.
There's no stopping to continuously lift the angle grinder to check your progress. You have an uncanny ability to see the surface being sanded through the disc as it spins, improving your productivity.
It's very fast and smooth.
The disc can be used on both its face and edge surfaces.
There's no heat buildup and retains excellent value. It can be cleaned and reused multiple times, saving hundreds of dollars in using flap disc sanders, time, labor and effort.
Discs are 4" (100mm) in diameter and feature patented structured tungsten carbide teeth bonded to steel discs over the total cutting surface.
Tungsten carbide needles are manufactured in a 5-stage patented process.
FEIN angle grinder Made in Germany
Holey Galahad proudly MADE IN THE USA
SHOP FEIN ANGLE
GRINDERS NOW
SHOP FEIN + HOLEY GALAHAD